Welcome to the Greg Eurell Thoroughbred Training Centre. The Training Centre was established in 1987 and is located at Site 1, Cranbourne Training Complex located off Grant Street Cranbourne in our fantastic new 60 Stable Complex. With the fabulous facilities available to us here at the Training Complex and proximity to a large number of racecourses Cranbourne is the place to be!
Gregs Philosophy in training is based on a genuine love of horses, not just horse racing. Horses are in his blood and his every decision is based around our horses best interest. Greg's upbringing and background in Equestrian including competing at the Olympics sets him apart from most and he has the extra something that only riders of elite calibre can comprehend.
He has an amazing ability to read horses and accommodate all types of personalities in his programming. His record with fillies and mares will attest to his ability to get the most out of individuals.
We invite you join us and experience Racing with the team at Cadet Lodge, you won't be disappointed!
Experience the thrill of racing a horse with Greg Eurell Racing. Greg and his team regularly attend the major sales. As horses become available they will be listed below. Should you wish to discuss a potential purchase, please don't hesitate to get in touch.
Sire: Magnus
Dam: She's Gifted
2 Year Old Chestnut Gelding
Sire: Reset
Dam: Stoke
2 Year Old Chestnut Filly
Sire: Your Song
Dam: Early Wakening
2 Year Old Bay Colt
Greg Eurell has experienced success at the highest level on more than one occasion, in fact on nine occasions! Greg has consistently been amongst Victoria's leading trainers with a very healthy strike rate from a small team of horses. He is well known as the trainer of the striking cult horse "Apache Cat" 8 time Group 1 winner (including 5 in a row) and Cox Plate Winner "Pinker Pinker".
Sign up and be the first to hear of our latest purchases
Upcoming Runners
Horse
Date
Race
Track
Fields/Form

Acceptances

Blazejowski
Dec 04, 2021
6 - Racing.Com Park
Racing.Com Park
Field
Cogent
Dec 05, 2021
4 - Bairnsdale
Bairnsdale
Field
Recent Winners
| Horse | Date | Race | Margin | Jockey |
| --- | --- | --- | --- | --- |
| Inviva | Nov 20, 2021 | 1 - Tatura | 5.30 | Beau Mertens |
| Cogent | Nov 20, 2021 | 3 - Tatura | 3.00 | B Higgins |
| Taut You Could | Nov 13, 2021 | 1 - Cranbourne | 0.20 | Damian Lane |
| Teser | Nov 08, 2021 | 1 - Moe | 1.30 | Thomas Stockdale |
| Shezadandi | Oct 24, 2021 | 3 - Sale | 0.10 | J Mott |
| Balsamic Vinegar | Oct 08, 2021 | 4 - Cranbourne | 0.20 | M J Dee |
| Eugene's Forest | Oct 08, 2021 | 6 - Cranbourne | 0.10 | J Mott |
| Hezafox | Oct 08, 2021 | 5 - Cranbourne | 0.20 | C Newitt |
| Cuban Link | Sep 22, 2021 | 3 - Flemington | 0.10 | Craig Williams |
| Prowling | Sep 12, 2021 | 3 - Cranbourne | 1.80 | Craig Williams |

Hancox Bloodstock has been utilizing Greg Eurell as a trainer since he was first licensed. Greg and the team at Cadet Lodge are a pleasure to deal with.
Cadet Lodge is run with honesty, integrity and efficiency with the welfare of the horse as the first priority.
Trainer, staff and horses are always turned out beautifully. Greg treats every horse as an individual and has achieved stunning results with budget priced horses COURTLY QUALMS, WAVELENGTH, Just Like El, Salute The Storm, Shaville, Royal Jugah etc.
As syndicators and managers of racehorses we find Greg Eurell and his team at Cadet Lodge make a difficult job easier.
Shelly Hancox
HANCOX BLOODSTOCK

I have known Greg for more than half his lifetime, as an Olympic Equestrian and as a successful trainer. I consider him to be a very talented horseman, both in training and educating horses. Greg and I have supported each other over many years and he has been the catalyst in the formation of many enduring business associations and friendships.
My support of Greg is based on his sincerity, integrity and talent as a horse trainer. Lynden Park Stud's association with Greg has included the breeding and racing of wonderful horses like Apache Cat and Waynes Gold. I believe there are many more to come.
Greg is well supported by his partner Danielle and sons Tim, Nick and Sam. I write this recommendation with great sincerity and the utmost admiration.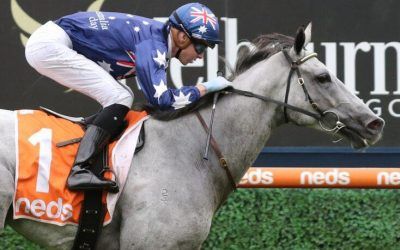 Posted by: Graham Potter+ at 4:58pm on 26/1/2021Posted in: Horse Racing NewsThe Greg Eurell trained Blazejowski, unwanted in the betting at $17...
read more
Please feel free to use the Contact Form to contact the Greg Eurell stable.
Site 1, 100 Grant Street
Cranbourne Training Centre
Cranbourne
VIC 3977